Last updated on February 9th, 2018 at 12:47 am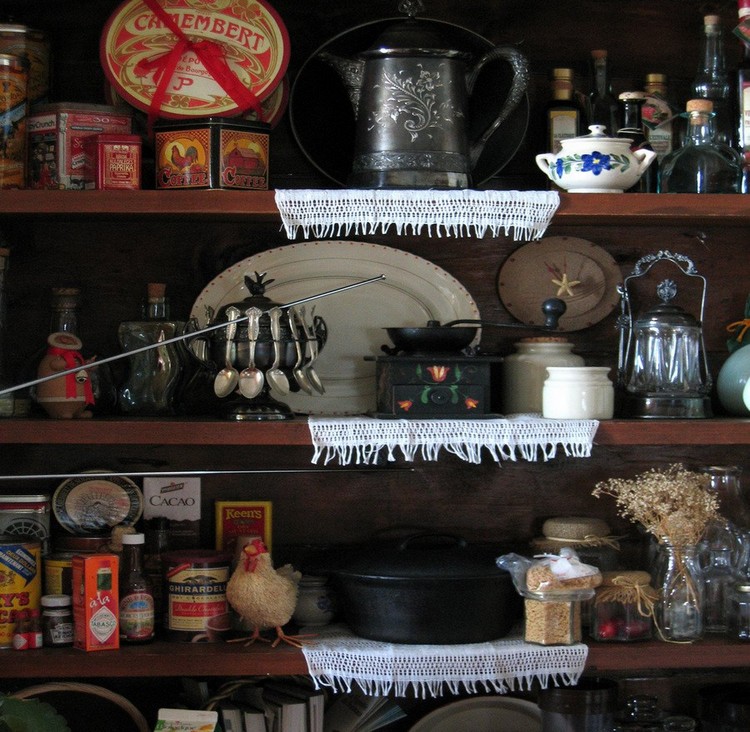 Here's how to stock a kitchen pantry, including a suggested list of staples, plus some tasty pantry stock recipes.
by Nikki Willhite
There is nothing like the security of a well-stocked pantry. There is a feeling of comfort in knowing that you can get along without going to the store for several months if necessary because of illness, money or other reasons.
Our food chain is so dependent on transportation, which can be easily interrupted by many things, including bad weather and union strikes, that it really pays to stock a pantry of kitchen staples to get you through in the event of an emergency.
You also save money by avoiding needless, and usually expensive trips to the store to pick up what is supposed to be "just one thing". Everyone should store items in their pantry that they like and will eat so that food isn't wasted. Items can be rotated so that nothing gets old. If you are new to building a pantry, you should start slow, as you do not want all your food items to reach their expiration date at the same time. If you are buying corn, for instance, when it goes on sale buy more than just one can. As long as you are rotating and using all your food, you will save money by purchasing your food items at sale prices.
Expiration dates or packaging dates are now written on most food products. These dates are always very conservative. Canned and dried items will last for many years.
If you usually eat fresh foods, have a few recipes that use your canned items on a regular basis. There are many ways to use your stored items that are especially useful when you want a quick and easy meal.
Another side benefit of storing food is that if there is a safety recall on canned goods, chances are you haven't eaten the food yet.
Having said that, here is a list of the most common and useful items to store, which reflect the personal preferences of my family. Note that this does not include freezer items, which you may lose if the power goes out.
Suggested Pantry Shopping List
Use the following list of items to form the basis of your pantry stock, adjusting each category to suit you and your family.
Food related stock is normally stored in the kitchen, but household items can be stored in a cupboard in the bathroom or basement, or wherever is most convenient for you.
CANNED MEAT and PROTEIN

Beans, beef stew, chicken or turkey, chili, corned beef, creamed soups, powdered eggs, canned ham, milk (powdered, evaporated and condensed), peanut butter, baked beans, ravioli, tamales, tuna, salmon.
STARCH (be sure and store water)
Crackers, potatoes (dehydrated, instant or canned), hot and cold cereals, noodles, rice and rice mixes, oatmeal, pancake mix, spaghetti, top ramen noodles.
VEGETABLES
Carrots, corn, green beans, onion rings, mushrooms, peas, pickles, vegetable soups, yams.
FRUIT
Applesauce, fruit cocktail, mandarin oranges, peaches, pears, pie filling, pineapple, tomato-based sauces.
MISCELLANEOUS
Fruit drinks, jams and jellies, jello, pudding, oils, salt, shortening, sugar, vegetable cooking spray, water (for both drinking and household use).
BAKING SUPPLIES
Baking powder, baking soda, brownie mixes, cake mixes, corn meal, corn syrup, flour, sugars, yeast.
CONDIMENTS
Barbecue sauce, diced green chilies, ketchup, mayonaise, mustard, pancake syrup, salad dressings, salsa.
SPICES
Beef and chicken bouillon, spices, cinnamon, garlic powder, minced onion, pepper, salt.
HOUSEHOLD
New tooth brushes, ammonia, aspirin and pain relievers, bleach, deodorant, feminine protection, kleenex, light bulbs, matches, medications, paper plates (also paper cups and napkins, in case of water shortage), razors, shaving cream, soaps and detergents, toilet paper, toothpaste, vinegar.
Pantry Storage Recipes
Here are a few quick and easy ways to use your pantry storage:
CHICKEN CASSEROLE
1 Can Chicken
1 Package Rice-a-Roni
Cook rice according to package directions. Flake canned chicken into cooked rice, and stir until warm.
TUNA CASSEROLE
4 Cups Noodles (or Macaroni and Cheese Dinner, prepared)
1 Can Tuna
2 Cans Creamed Soup
Salt and Pepper to Taste
Cook noodles until tender. Put in a casserole dish, and mix in soup, tuna, salt and pepper. Cook at 350 degrees approx 30-40 minutes.
ZESTY BEANS
Vegetable Cooking Spray
2 Cans (16 oz. each) Pork and Beans
1/4 cup Ketchup
1/4 cup Tomato Sauce
1/8 cup Minced Onions
2 Tablespoons Brown Sugar, packed
2 Tablespoons Prepared Yellow Mustard
Spray a medium skillet with cooking spray and heat the pan over medium heat for 1 minute. Add ingredients and mix until hot.
GREEN BEAN CASSEROLE
2 Cans Green Beans, Drained
1 Can Cream of Mushroom Soup
1/4 Can Milk
1 Can Onion Rings
Mix Green Beans with soup and milk. Top with Onion Rings. Bake at 350 degrees until bubbly.

APPLE CAKE
1 Yellow Cake Mix
1 Can Apple Pie Filling
Powdered Eggs to equal 3 fresh eggs
Powdered Sugar
Hydrate the powdered eggs with water, and mix with yellow cake mix and apple pie filling. (Do not add extra water). Beat, and then pour the batter into a 9×13 pan. Bake at 350 degrees for 35-40 minutes. Sprinkle with powdered sugar when cool.
FINGER JELLO
4 Cups Boiling Water
4 packages unflavored gelatin
1 and 1/2 Cups Jello (any flavor/flavors mixed together)
Mix the gelatin and jello together in a rectangular pan (approx 13×9). Bring the water to a boil, pour it into the jello powder, and stir until dissolved. (My family likes the bottom crunchy- so I stir less).
After it cools to room temperature, put in the refrigerator for it to harden (approximately one hour).
Eat it from the pan, or cut it into squares and put it on a plate in the refrigerator for quick grabbing.
About the Author: Nikki Willhite, mother of 3 and an interior design graduate, has been writing and publishing articles on the topic of frugal living for over a decade. Visit her at www.frugalhappyfamilies.com – Frugal Happy Families- more than just money!
Emergency Supplies
See also: How to Make an Emergency Supply Kit for information on what to stock to get you through for three days during an emergency situation.