Last updated on March 28th, 2012 at 01:03 am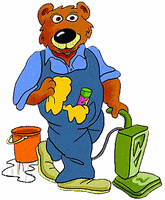 Commercial or brand name floor cleaners or carpet cleaners usually contain harsh chemicals that may, or may not, be identified on the label. A better, less expensive alternative is to make your own cleaners – that you way, you know what goes into them is safer for children, pets, and you!
Homemade Floor Cleaners
Easy Wood Floor Cleaner (good for other floors too!)
1/4 cup vinegar
2 gallons hot water
10 drops orange essential oil (optional)
5 drops lemon essential oil (optional)
Mix together in a bucket and mop. No need to rinse.
For dirtier floors, increase the amount of vinegar to 1 cup per bucket and add 2 tbsp natural liquid soap, then rinse to remove any soap residue.
Floor Disinfectant Cleaner


Put half a cup of borax in the bottom of your cleaning bucket then add two gallons of hot water. Apply to the floor with a mop. No need to rinse.
Linoleum Cleaner
Place 1 tablespoon of liquid soap and a quarter cup of washing soda in your cleaning bucket. Add 1/4 cup of vinegar and two gallons of hot water. Use to clean linoleum (non-wax) floors.
Homemade Carpet Cleaners
Vacuuming
The vacuum is your first line of defense against dirty carpets. Vacuum regularly, and go over the carpet in several directions as you work.
Not all vacuums are equal; check Consumer Reports for test results. Ideally, you want a vacuum that traps even the smallest particles rather than redistributing dust via the exhaust.
Natural Rug Cleaner
Rub cornmeal into a rug and vacuum out all the dirt, hair and grime with it.
Natural Carpet Deodorizer
Sprinkle baking soda all over the carpet and let sit for 15 minutes before vacuuming to absorb and elminate most carpet odors.
Natural Carpet Stain Remover
1/4 cup vinegar
1 cup water
1 tsp natural liquid dish soap
Thoroughly mix and put into spray bottle. Shake, spray, and blot.


Pet-Safe Carpet Freshener
2 cups baking soda
15 drops lavender essential oil
Combine thoroughly with a whisk. Sprinkle onto carpet and leave for a few hours. Vacuum thoroughly.
Pet Messes on Carpets
Blot the area throroughly. Wet a cloth with club soda and continue blotting untill dry. If smell is a problem, simply spray with a vinegar/water mixture.
If you liked this article, you might also like to see our recipes for Homemade Surface Cleaners or Homemade Kitchen and Bathroom Cleaners.