Last updated on February 12th, 2018 at 05:41 pm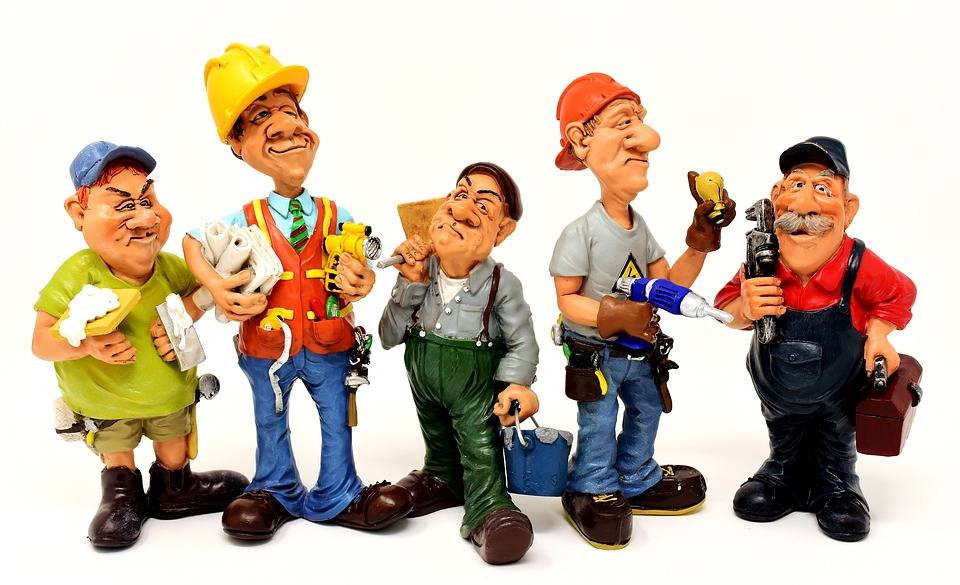 Whether you do it yourself or hire a contractor, home renovation is usually chaotic and always messy.
by Jane Lake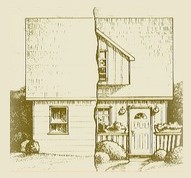 In your mind's eye, a home renovation can be picture perfect. It's easy to imagine a wall moved back here, a skylight spilling sunshine from the ceiling there, a fireplace brightening that now dark corner of your recreation room. But breathing new life into an old house isn't nearly as romantic as it sounds. Whether you do it yourself or hire a contractor, home renovation is usually chaotic and always messy. Tear down just one wall and you'll be breathing, eating, and sleeping in plaster dust.
When the dust settle (it does, eventually, on everything), you'll want your home renovation project to meet not only your own expectations but those of the building inspector as well. That means maintaining control (and your sense of humor) as the job progresses from conception to completion. It also means throwing routine out the window along with the construction debris. But, if you can keep the contractor on time and the kids off the jungle gym of ladders and scaffolding, you're halfway to your dream home.
Whether you're planning a professional addition or a DIY makeover, accept the fact you'll be under siege for the duration: dodging mountains of rubble, dealing with power and water disruptions (which always last longer than anyone predicts) and breathing not only dust but paint, solvent and adhesive fumes as well.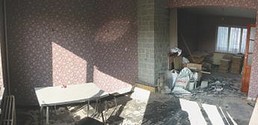 If you can't face the mess, and will be hiring someone to do the work, consider timing a major remodel to coincide with your family vacation, preferably in early spring when more contractors and sub-trades are available. "Working around a family slows the whole process down," says Ray Orser, a Kitchener, Ontario contractor. "It's best to actually leave the house if possible. Alternatively, you may want to move on to one floor and leave the other the builders."
Consolidating your living space – for instance, asking the kids to share one bedgroom and converting the other into a living room – makes sense, particularly if you'll need to move or protect the living room furniture anyway. The builders will function more efficiently when they don't have to mind your prized collection of crystal stemware, and you'll be more comfortable knowing it's safe. Ask tradespeople to confine tools and materials to the designated work space and, in return, keep toys, pets and family members out of their way. Assigning bathroom facilities, or renting a portable toilet, helps the work crew feel less intrusive and safe-guards your really special hand-embroidered bath towels.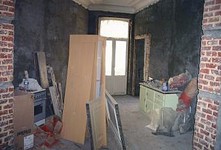 Since home renovation affects everyone in the family, it's important to discuss what home conveniences will be disrupted and for how long, and to agree on coping strategies.
If you're doing a kitchen renovation, says Orser, you may be without sink, stove, fridge, cupboards and counter for one to two weeks, longer if you're doing the work yourself. Let everyone choose a favorite restaurant for the days you'll be eating out. Otherewise, view the experience as an escape from kitchen drudgery. Paper plates and plastic cutlery can eliminate dishwashing, while a microwave oven, toaster oven and electric kettle, plus boxes and tins of convenience foods, will produce edible, if not gourmet, meals with a minimum of fuss.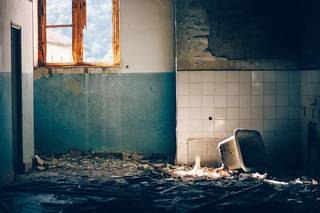 A bathroom replacement, especially if it's your only full bathroom, inevitably means sponge baths (brrrrr….) while the tub and shower are off limits. And it's not easy to keep damp feet clean while the floor is littered with sawdust and shavings. Buy everyone an inexpensive pair of flip-flop sandals to prevent splinters and avoid tracking debris throughout the house. Use old towels as a substitute for fluffy bath mats and pack away your fabric shower curtain, toilet cover and best linen until it's time for the finishing touches.

Is home renovation worth the hassle?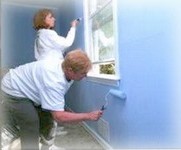 Rural Ontario resident Dee Greenhough believes it is. Over the past 10 years she and her husband, Dennis, have improved upon their basic three-bedroom raised bungalow by adding an attached double garage, a recreation room with fireplace, and a two-storey entrance foyer which incorporates storage space in an upper loft. A winterized sunroom with twin skylights and an attached raised deck was completed last year, as was a kitchen and bathroom facelift.
The result is comfortable, efficient, modern home packed with custom-designed features which add significantly to its resale value. Not that the owners want to sell. "We've pretty much got the place looking and feeling the way we want it," says Dennis. But Dee adds that renovation is an ongoing process. "There's a sense of satisfaction when you see the end result of a project you conceived. You start to look around and think, 'Wouldn't it be nice if….'"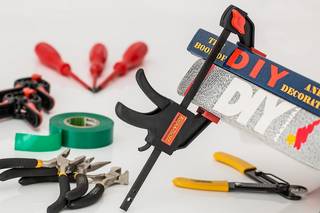 The Greenhoughs' did much of the work themselves, learning the pitfalls of framing, drywalling and painting the hard way. Major jobs such as brick-laying and final electrical connections were left to professionals. Both agree that the worst part of any renovation is the dust and dirt. "Plaster dust is insidious stuff," says Dee. "No matter how tightly you seal up door openings or clothes closets it settles, like dandruff, everywhere."
Prepare for the indoor snowstorm by closing heat registers and return air vents and covering "every single thing you can think of," advises Orser. Dust from old plaster and new drywall is lime-based and will eventually eat through fine fabric and upholstery. And, Orser warns, you don't even want to find out what happens if it seeps into the back of your televison, computer or other electronics. Remain in blissful ignorance by protecting them with plastic covers until you're certain all the dust has settled. Plastic sheeting will also protect appliances, furniture and carpets.
Renovation can be fun if you're the adventurous type willing to pick up a hammer and let the dust fall where it may. But if, like most of us, you're not such a free spirit, take heart: with careful forethought and adequate survival techniques even you can endure a renovation and live to boast about it.
First published in Highlights Lifestyles Magazine
Copyright © 2005 – 2018 Jane Lake All Rights Reserved