Last updated on February 12th, 2018 at 08:28 pm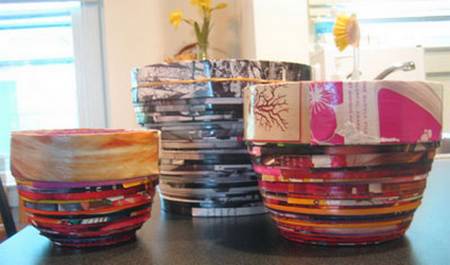 If you have a stack of magazines that you don't want any more, recycle them into a funky recycled magazine bowl, like this one, designed by Tara Prigge.
Tara folded each sheet into 1-1/2″ strips, using a glue stick to stick down the outside fold. Then the strips were joined together with clear tape and rolled in a coil that was gradually curled around itself to form a bowl.
Different crafters like different ways of doing things, but who's to say which is best. There's a great Magazine Bowl tutorial by Patricia Zapata, with step-by-step photos of her technique, using strips rolled to about 1/2 inch, fastened by hot glue. Although the bowls look wonderful just as they are, Tara is thinking of spray painting one orange to use as a candy bowl for Halloween, or making a set of magazine bowls in assorted sizes.
Make this Coiled Magazine Basket from one inch vertical strips foiled into thirds. This method sounds a bit more fiddly because you need to paste two strips together with rice glue, or white glue thinned with water, before coating the strip with more glue and rolling it into a coil. However, the effect is very pretty and this project also has step-by-step photos to follow – always a bonus.
I've heard that Craftster.org has a good recycled magazine bowl tutorial, although I haven't seen it, because I can only get slow nternet service in my area, and Craftster pages take forever to load. However, you could use their search feature to find it, if download time isn't an issue for you.
I love the creativity shown in a self-titled Half-Baked Idea on Craftypod.com. Using the basic instructions from Patricia's tutorial, the author played around with the magazine coils and came up with a colorful bracelet. By fan-folding the paper strips, she also made these wonderful stars; they would lovely hung in a window or from a Christmas tree!
By draping the coiled paper strips over a bowl or other container as you work, you can vary the shape of your creation. Decoupage medium, Mod Podge, paint or spray sealer will provide a protective coating.