Last updated on November 18th, 2022 at 10:04 pm
Recommendations for keeping your dog safe and healthy change with the seasons.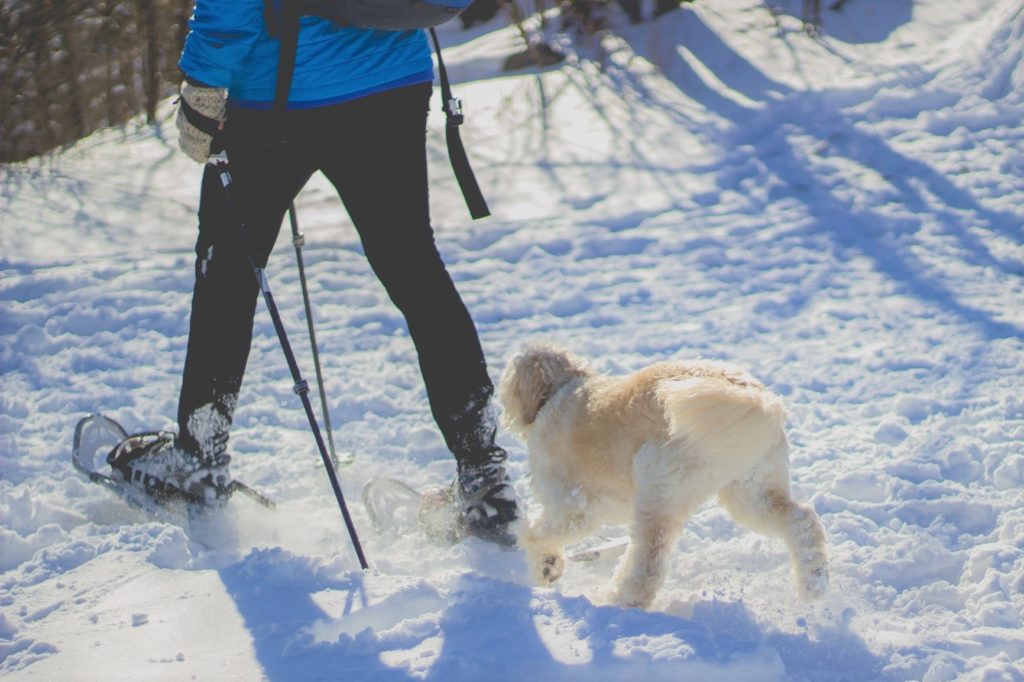 by Jane Lake
Here's a reminder of how best to care for your dog through the harsh temperatures of a frigid winter.

~~ Cosy Up Indoors. No dog should be left outside for any extended time in below-freezing weather. And, yes, that includes huskies, german shepherds and other cold-climate breeds. Although they tolerate colder conditions better than most, no dog is comfortable living outside in a frigid winter temperatures.
~~ Don't Get Too Cosy. Exercise is still critical for both you and your dog during winter. This should include regular walking or running outside. For dogs with a sparse coat, or little natural protection, warm and waterproof dog coats are widely available.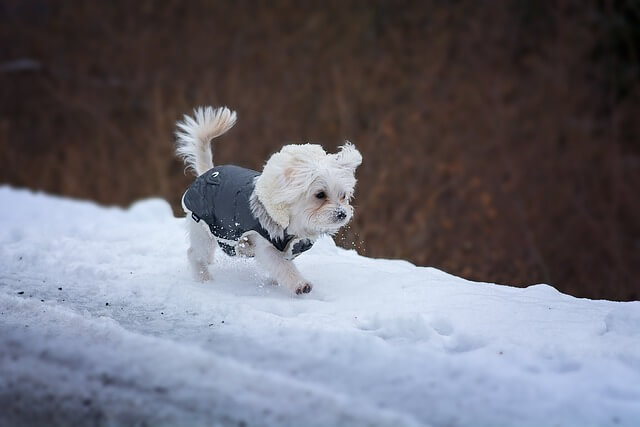 ~~ Check Between the Toes. When your dog comes inside after a winter walk or a potty break in the snowy backyard, check between the toes and remove any ice balls, salt or chemical de-icers. Use a moist washcloth to rinse away the ice and salt, then dry with a towel.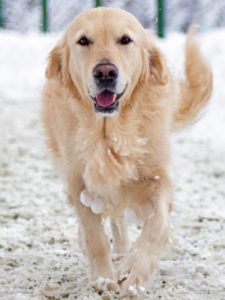 Booties may help, but many dogs don't like them. Trimming the fur between the pads of furry feet, as well as between the toes, will help reduce the build-up of packed snow and ice balls.
~~ Watch Those Calories. This could go either way – a dog who adores playing in the snow but hugs the air conditioner in July may need their food increased for winter. However, the fur ball who lies by the fire all day may start gaining excess weight. One way to keep those muscles moving is to start a daily game of fetch down the hallway or a tug-of-war in the kitchen.
~~ Reduce Bathing. Central heating and cold winter air are a drying combination for your dog's skin. Reduce bathing until spring and when you do bathe your dog, use a moisturizing shampoo.
~~ Toss Those Treats. Watch out for those chocolates so beautifully wrapped under the Christmas tree; chocolate is poisonous for dogs and should be stored safely out of reach. Also watch out for those well-meant gifts of rawhide. Dyed or bleached rawhide shapes look great in the store but are made with toxic chemicals. Large pieces of rawhide can also lodge inside the canine digestive tract thus requiring emergency surgery or causing death. Don't feed rawhide to your dog; toss it out!
~~ Avoid Poisonous Plants. If you're buying a live Christmas tree, avoid fir which produces oils toxic for pets. Ingested Christmas tree needles can also irritate the stomach, cause an obstruction, or penetrate the gastrointestinal tract. And that watering bowl for the Christmas tree? Even a few laps of moldy, bacteria-filled water can make your dog sick.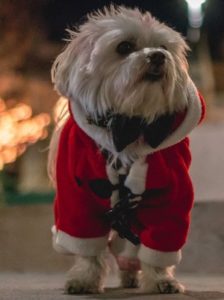 Poinsettia leaves irritate the mouth and throat so it's unlikely that a dog will eat enough for severe poisoning. However, even a few poinsettia leaves may cause nausea and vomiting. There's also the added danger of possible pesticide consumption which can be serious and, in rare cases, life-threatening.
Other holiday plants that are potentially dangerous to dogs include lilies, daffodils, holly, mistletoe and especially amaryllis.
~~ Calm the Stress. Planning a party? You may enjoy the extra company, but your dog may not. If you're planning a get together that will stress out your dog, plan for a dog sitter to look after your pet, or arrange for your dog to spend the party time in a room away from all the noise and fuss.
More Resources:
Pet Safety Tips from the Ontario Veterinary Medical Association
Dangerous Winter Holiday Plants for Pets
Dogs in Winter images from Unsplash.com